How to clean area rugs out of the home to keep you in style.
Investing in large area rugs is costly for those who choose to showcase a unique broadloom focal point in their homes or businesses. The elegance of antique hand-woven heirlooms or a fondness for collecting oriental rugs direct from the East speaks volumes in durability, aesthetic appeal, and overall fashion style that never wavers throughout the years.
When the time comes for these broadloom beauties to be thoroughly cleaned, either for routine maintenance or stain and spill removal, it is in your best interest to have your large area rug removed from the premises. And be revitalized in a professional area rug cleaning factory by trained technicians rather than risking in-home steam cleaning.
Tough spots that can inflict serious damage to your flooring finery if not handled asap include coffee, dark wine, colored kid drinks like fruit punches and powder mixes, blood, pet urine, and excrement. Although a meticulous procedure for all finer large rugs, we recommend off-site removal rather than an in-home rug cleaner session for a few reasons.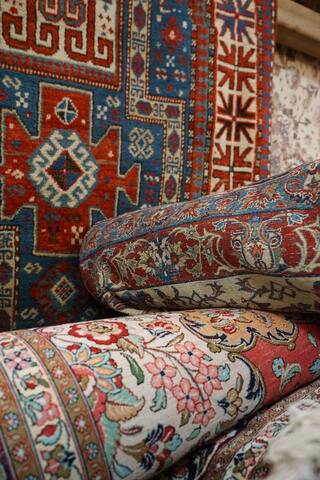 Make Rugs Clean Again
Because the fibers in large rugs like Orientals are natural like cotton, wool, silk, and jute, they tend to hold in stains and odors more than large synthetic rugs.
Color loss and dye bleeding are direct results of improper cleaning.
The backing on these styles of carpets is usually made of yarn and requires a delicate yet deep clean that can't be undertaken in the home without risking damage to the floor.
A multistep process incorporates vacuuming, beating, fringe combing, steaming, shampooing, disinfecting, deodorizing, and drying.
The real star of an out-of-home rug cleaning is found in the rinse.
If not properly rinsed thoroughly, even the most eco-friendly detergents can remain trapped inside and become a trap for more oils, dirt, and lingering odors.
Once washed and completely dirt, stain-free, and rinsed, your area rug cleaning enters the drying stage where they are laid out on floors specifically designed for drainage and aeration or hung on manufacturer-designed racks and towers.
Each and every large rug is then literally hand groomed, vacuumed again, and treated with a protectant fluorochemical that is guaranteed to be non-caustic and pet/enviro/child safe.**Please note that normally, this process will have to be reapplied perhaps two or three times after to create a complete stain-resistant bond.**
A post-clean inspection is performed, and your delivery time will be reconfirmed.
Finally, before being hand loaded into the auspicious clean delivery van, your large rugs are wrapped for transport purposes.
If you need a deep clean for your prized possession, call us at 617-202-2202 and speak with a highly trained service triage technician who can talk you through the easy assessment appointment and scheduling procedure. At Mass Carpet Clean-Up, we are proud to offer a complete array of cleaning services for all your in-home and commercial needs.
Servicing the greater Boston area and Worcester County, one call or online booking, we welcome you to select all your preferences for any time of the year. Maintenance calls, seasonal cleanups, emergency disasters, and 24-hour coverage, we can handle it all.