Greater Boston Area Sofa and Upholstery Cleaning
More than carpets and rugs
There is no denying that freshly cleaned floor coverings, throw rugs and wall-to-wall carpets make a lasting impression. The dirty, dingy, stained spots, accidental spills, tread zones, and droopy pile naps are gone. You feel like you are walking on air, and the clean, crisp smell makes the whole house feel renewed, especially during seasonal cleaning time.
If your rugs can be treated to a deep clean spring or fall routine, then why not expand your senses to include your home furnishings? From sofas and settees to rough and tumbled-on armchairs and recliners, deep-down steam injection and high vacuum extraction service can doubly enhance your post-cleaning pleasure.
When you choose us at Mass Carpet, we apply the same trusted professional clean to all of your surfaces using the highest temperate grade steam vapor extraction that permeates right to the deep core of your furniture. Non-abrasive, kid and pet friendly, you have almost immediate full use of your couches, chairs, futons, and mattresses without worrying about any lingering damp spots.
Wet or dry: a DIY try
At Mass Carpet, we completely understand that it may not be feasible or time effective to book a service to take care of a few spots here and there, so we've compiled a few tips that you can use to stay on top of the stains before they take control.
While the marketplace and store shelves are stocked with various residential-grade spray spot removers, your preferences will dictate the purchase you want to make. All are priced accordingly, and while some are targeted for specific stains, odors, and circumstances, the outcome is usually typical and mid to mediocre at best, quick fixes and cosmetic cover-ups. So before you search for the best fabric sofa cleaner, take a few minutes and try our advice.
Why not try a natural fabric cleaner that is safe for both the environment and almost every fabric that can readily be concocted with ingredients you already have on hand? !!As always, before mixing up a max of a solution, read any affixed tags or cleaning instructions and perform a small test on an inconspicuous part of the project.!!
To create your fabric upholstery cleaner, mix equal parts rubbing alcohol and white vinegar with a double dose of water and either dab press or spray it onto the stain and surrounding area. Let the solution sit for a couple of minutes, and then apply an equal pressure rub and dab with a clean microfiber cloth.
You can mix a thicker paste-like product with your own liquid laundry detergent or dish soap and baking soda for tough, stubborn stains. Rub it into the affected spot, let it dry and then, with a soft brush and vacuum, remove the granules and then spray rise if needed
Oxygenated products use the air method to cause the same clean function, so if you are inclined, the baking soda and vinegar or hydrogen peroxide mix is another suggested solution. The foaming bubbles will loosen dirt and drive it up to surface level, making your in-home spot cleaning a breeze.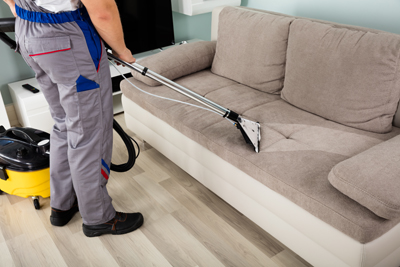 Ask How We Can Make Your Upholstery Look Like New
Call To Get Free Quote
Call To Get Free Quote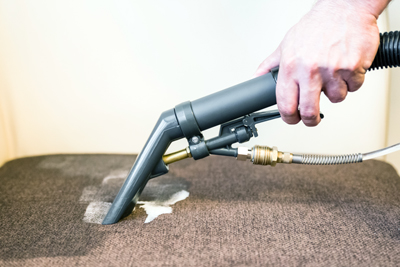 Professional Steam Cleaning
The power of powder
There are fabrics that, by nature, seem to hold tight to greasy, grime offenders, kitchen cooking odors, stale smoke, and such. Even residual nicotine and dirty walls leave a yellow film that becomes increasingly difficult to wash if left too long. One of the most common places that you will find this type of conundrum is in a fabric headboard. Traces of scalp oil, makeup, hair shampoo, conditioner, and skin cream ground the material and go unnoticed.
To tackle this type of stain, begin with a thorough vacuum with a handheld attachment if available, and alternatively, soft brush through any pleats, tufted buttons, or seams to ensure the surface dirt and dust, dry skin, and hair is removed. A durable lint roller brush can also be used to help this process.
Next, you'll consider this as a fabric headboard cleaner: baby powder. A powder talc compound does wonders for soaking up oily spots while leaving a fresh scent behind. Baking soda can be tasked to the same chore. Sprinkle the powder into the divot or use a cloth to rub it into the entire fabric of your headboard. Let it sit for half an hour, and then give another rub before vacuuming the remains away.
Again, if a visible spot is an eyesore rather than an all-over situation, you can use the same spray mix reserved for your other upholstery and damp blot out the stain. Weekly upkeep of your fabric headboard and even your mattress with the brush, powder, and vacuum technique will make an amazing change to your sleeping environment, and remove allergens, dust mites, dander, and hair/skin follicles.
Spray foam fabric cleaner…yay or nay?
The best fabric upholstery cleaner doesn't need to leave you in the lurch with half-used bottles, jars, sprays, or gallon jug concentrates. Unfortunately, even the ease and appeal of leaving in foam fabric cleaner can create more of a hassle because the density of the foam can actually become trapped with the stain and leave behind an oily residue.
Steam heat can't be beat
This is another reason why you can count on Mass Carpet. The super high efficiency of an ultra-heated rinse and extraction after a steam clean is prevalent to remove all traces of detergents used in the initial cleaning. If left behind fabric and upholstery shampoos trap in the dirty dregs.
Don't get fooled into a rental machine of even an in-home residential steam cleaner purchase. At the same time, they remove dirt, it's just the top surface. They are just not able to maintain the constant hot water temperature required to produce a steam vapor tough enough to get the job done. Health-wise, high steam is best to kill molds, bacteria, allergens, mites, and other spores.
For all these reasons and in any season, trust our service professionals to give your entire home a pristine clean. So give us a call at 617-202-2202 or drop in online and make your appointment now. You'll be swept off your feet by all the services we provide.
How It's Done
Your furniture is combed over with a soft brush to loosen up dirt, hair, and dander stuck within the fabric. We use a vacuum attached to our truck mount to extract dislodged particles. Many cleaners skip this step in the interest of time, but it hugely impacts the final result. Next, we run tests to determine if the composition of the fabric's fibers, and whether they're colorfast. The results of these tests determine the right cleaning solution to be used.

Problem areas are then treated with the appropriate preconditioner for increased chances at removing stains. The preconditioner and stains are gently lifted out via hot water extraction, and with them, any bacteria sheltered within the fabric. This process is repeated if necessary. Particularly sensitive fabrics are groomed afterward to keep them looking healthy.
Sofa Cleaning3>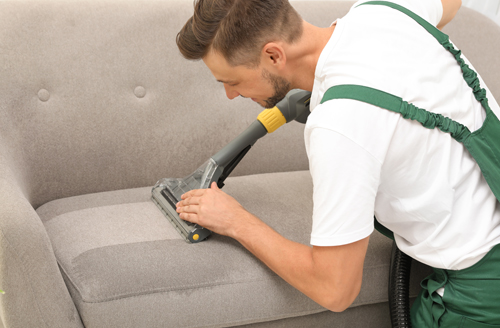 Call To Get Your Sofas Clean
Deep Oder Removal & Cleaning3>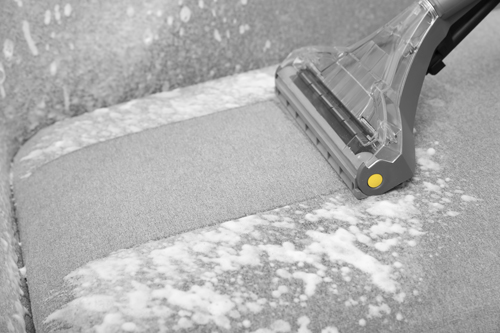 Furniture Homecare Tips
The average household should have its upholstery professionally cleaned at least once annually. However, furniture that sees heavy traffic from small children and pets should be cleaned 3 to 4 times per year. Regardless, it's important for homeowners to personally maintain their upholstery between cleanings. The following can increase your furniture's lifespan:

Blot Out Stains: Use a paper towel or clean cloth to absorb any spills before they set in. This should be done immediately after the spill.

Smart Placement: Position your furniture so that it's exposure to sunlight or cooking fumes is limited, as prolonged exposure can harm the fabric.

Vacuuming: A periodic vacuuming helps extract surface soils, and prevents dirt particles from becoming enmeshed into the fabric's fibers.
Call To Get Free Quote
Call To Get Free Quote